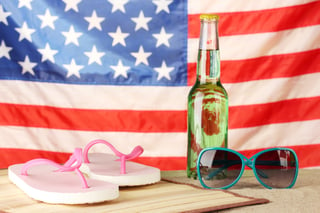 Labor Day Weekend signals the seasonal change from summer to, well... not summer. Depending on the mood of Mother Nature, the weekend can be our last hurray of G & Ts or our first big dip into our hearty porters and ales.
So whether you're thinking about autumnal ales, warming whiskeys, or looking for one last fun cocktail to shake, we have a few different ideas on what to stock for your weekend away as we celebrate America's labor movement and the contribution workers have made to the strength, prosperity, and well-being of our country.
5 Cocktail Recipes Perfect for Labor Day Weekend:
Pour Bailey's Irish cream and creme de menthe into a coffee mug, and stir. Add hot chocolate, and top with whipped cream. Sprinkle with chocolate shavings and a maraschino cherry if desired, and serve.
Pour the Scotch and Drambuie into an old-fashioned glass almost filled with ice cubes. Stir well. Garnish with the lemon twist (optional).
Combine and serve over ice. Skip the water if you're shaking it.
1½ oz. vodka
Orange juice
Orange slice for decoration
Mix the ingredients and strain into an old-fashioned or Collins glass with ice cubes. Decorate the cocktail with a slice of orange.
2 oz. bourbon
2/3 oz. lemon juice
1 teaspoon superfine sugar
Shake the bourbon, juice, and sugar well with cracked ice, then strain into a chilled cocktail glass (unless you happen to have a Sour glass).
Now, it's time to get your ingredients together. Remember, Haskell's 13 locations are now open seven days a week or you can always order online. Cheers to a safe and enjoyable long weekend!