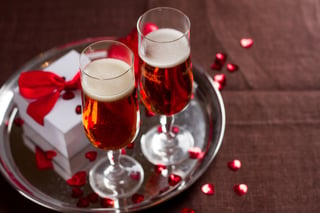 Whether you are having a party for two – or twenty – we have some strong, sexy and satisfying cocktail ideas for your Valentine's Day Party. February 14th can mean pizza and beer, or champagne and caviar, or somewhere in-between. Whatever your taste, we've gathered cocktail ideas that are sure to make most feel the love.
10 Cocktail Ideas and Recipes for Valentine's Day
Soak one sugar cube in a champagne flute with angostura bitters. Add champagne and cognac. Squeeze in a twist of lemon and discard. Garnish with half a slice of orange. Makes 1 serving.
Bring 1/2 cup water and sugar to boil in small saucepan, stirring until sugar dissolves. Simmer 5 minutes. Cool syrup completely. Combine Champagne, rum, and pomegranate juice in punch bowl. Add enough syrup to sweeten to taste. Mix in lemon slices, pomegranate seeds, and mint leaves. Add ice block to punch bowl. Makes 12 servings.
Half fill a champagne glass with Guinness and gently pour the champagne over the back of a spoon so the liquid runs down the sides, this avoids mixing the two liquids. Makes 1 serving.
Shake well with cracked ice in a chilled cocktail shaker, then strain into a Collins glass half-full of cracked ice and top off with champagne. Makes 1 serving.
Combine juice, gin, syrup, and Campari in an ice-filled shaker. Shake and strain into a flute. Top with champagne; garnish with orange slice. Makes 1 serving.
3 cups fresh raspberries
1 cup gin
1/2 cup sugar
1/2 cup fresh lime juice
1/4 teaspoon (scant) rose water
3 cups crushed ice
Mix first 5 ingredients in bowl. Let stand 1 hour at room temperature, occasionally stirring and crushing some of berries. Place 3/4 cup ice in each of 4 glasses. Top each with 3/4 cup raspberry mixture. Makes 4 servings.
1/4 cup Mint-Infused Simple Syrup, plus more for rim
3 chocolate cookies, finely crushed, such as Nabisco Famous Wafers
10 raspberries
1/4 cup vodka
2 tablespoons cranberry juice
Ice cubes
Fill a shallow dish with enough simple syrup to just cover the bottom. Place crushed cookies into another shallow dish. Invert a martini glass into simple syrup and then immediately into crushed cookies to coat the rim of the glass. Place raspberries in a cocktail shaker; crush with a muddler. Add simple syrup and muddle again. Add vodka and cranberry juice; fill shaker with ice. Shake well until chilled. Strain into prepared martini glass. Serve immediately. Makes 1 serving.
GODIVA® Milk Chocolate Liqueur
0.5oz GODIVA® White Chocolate Liqueur
0.5oz Vodka
Shake with ice and strain into a chilled martini glass. Garnish with a chocolate-covered strawberry.
2 oz. rye whiskey
3⁄4 oz. red wine, such as Pinot Noir
1⁄2 oz. black currant liqueur
1⁄2 oz. fresh lemon juice
Lemon peel for garnish
In a cocktail shaker filled with ice, combine rye whiskey, wine, liqueur, and lemon juice. Shake well and strain into an ice-filled rocks glass. Squeeze the lemon peel lightly to release its oils and run around the rim of the glass before adding to the cocktail as a garnish. Makes 1 serving.
Chocolate Cherry Cha-Cha Drink Recipe

Chill the ingredients beforehand. Pour the cherry liqueur into a martini glass. Follow it with the Malibu Coconut rum, then the chocolate vodka, and finally the sparkling water. Stir and serve. Makes 1 serving.
Stop by any of our Haskell's stores to pick up your ingredients or simply shop right here, right now. We even deliver!