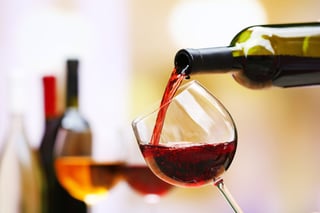 It's time for our spectacular Fall Wine Sale and we are excited to bring you a plethora of fantastic offerings including plenty of 90+ point wine picks. Not sure where to begin? That's okay. We've put a quick list together for you right here. Of course, you can order these great 90+ point wines online, but it's also fun to shop the shelves, so feel free to bring your own list and lots of questions.
Your Quick Shopping List of 10 Can't Miss 90+ Point Wines from the Haskell's Fall Wine Sale
2005 Cliff Lede Cabernet Sauvignon from Stags Leap — A dense richness crosses the breadth of the palate as fine tannins slowly ebb into lingering acidity, gradually diffusing with the fatness of the finish. Robert Parker 95+
2012 Clos des Papes Chateauneuf du Pape — A knockout. As many as thirteen different kinds of grape can end up in one bottle, although most vintners use only three or four, especially Syrah, Mourvédre, and Grenache. Wine Spectator 97+
2010 Domaine du Pegau Cuvee Reserve Châteauneuf-du-Pape — A terrific price for this Rhone blend. After 2 years, the Cuvée Réservée is bottled unfiltered, whilst the barrels selected for the Cuvée Laurence patiently await their time at the back of the cellar for another two years. Robert Parker 98+
A-Z Pinot Noir — Terrific price for a highly drinkable pinot from Willamette Valley. Wine Spectator 90+
2010 Freakshow Cabernet from Michael David Winery — An excellent wine under $20. This Cabernet has a bouquet of dark cherry and roasted spices. Full bodied and mouth filling with gobs of black currant, blackberry, charred oak, vanilla, and cassis. Robert Parker 90+
Cline Cashmere Red — A very flavorful, smooth wine offering big cherry, raspberry, and chocolate notes with hints of cracked black pepper and plum. The highest review to date for the Cashmere Red. It's been a perennial favorite for a reason. Robert Parker 91+
2009 Petite Petit from Michael David Winery — There is nothing small about this Petite Petit, except the price. Only $12.99 a bottle. Robert Parker 90+
2004 Seghesio Sonoma Zinfandel — A lovely big Zin with flavors of dark ripe cherries and sweet raspberries followed by velvety mouth feel. Wine Spectator 92+
Ferrari-Carano Fume Blanc — Zesty flavors and aromas of grapefruit, citrus, and honeydew mingle with a subtle grassy note that is complemented by a lingering finish of mango and guava. From Sonoma County. A steal at only $10.98. CA Grapevine 90+
William Hill North Coast Chardonnay — A favorite of the PGA and ours. This Napa Valley Chardonnay is a particularly good food wine, especially when paired with seafood or lighter style cream-sauced pasta dishes. Wine Enthusiast 90+
SPECIAL MENTIONS
**Limited! Forman 2013 Cabernet Sauvignon — This complex, layered wine will age beautifully. Robert Parker 95+
**Highly recommended Amicone Cantine di Ora. Our own Jack Farrell calls it the Poor Man's Amarone. Only $14.99 a bottle.
**Exceptional! Zaccagnini Montepulciano — Intense ruby red color, with violet nuances, full-bodied.
The list goes on and on. Download our Fall Wine Catalog here and start your own list of must-buy wines.