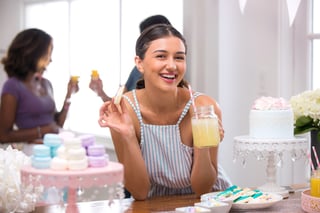 Are you hosting a bridal (or other) shower and need a few classy drinks to ensure guests are ready to toast the guest of honor? We have a few cocktails in mind that are sure to make your shower a hit with everyone from grandma to the bridesmaids.
One idea to keep it classy, and easy on yourself and your guests, is to have a few large format drinks ready when they arrive. Make them ahead of time so you can spend your time enjoying your company and celebrating the guest of honor.
Three Classy Pitcher Drinks to Serve Your Guests
Peach Basil Sangria (8-10 drinks)
1 cup loosely packed fresh basil leaves plus 8 to 10 sprigs
3/4 cup sugar
1/4 cup fresh lemon juice
2 cans peach nectar (23 fluid ounces total)
1 (750-ml) bottle chilled dry white wine
1 large peach (peeled if desired), diced
Put basil leaves, sugar, and lemon juice into a small saucepan and bruise leaves by mashing with a wooden spoon. Add 1 can nectar and bring just to a simmer, stirring until sugar is dissolved. Remove from heat and let stand 5 minutes, then pour through a medium-mesh sieve into a heatproof pitcher, discarding basil leaves. Stir in wine, peach, remaining can nectar, and basil sprigs. Chill, covered, at least 1 hour and up to 24. Serve over ice.
Sugar Baby (makes 2 dozen drinks)
1 pound fresh pineapple cubes

2 vanilla beans, split

2 cinnamon sticks, broken up

1 liter vodka


Ice

About 1 1/2 liters chilled Sprite
In a large nonmetallic container, combine all of the ingredients except the ice and Sprite. Mash the pineapple and vanilla beans. Cover and refrigerate for 5 to 7 days. Strain the infused vodka into ice-filled highball glasses and top with the Sprite.
1 cup (packed) mint leaves, chopped
2/3 cup sugar
1 cup fresh lemon juice
1 1/2 cups vodka
Crushed ice
Fresh mint sprigs
Combine chopped mint and sugar in large bowl. Stir in lemon juice and vodka. Cover and refrigerate for at least 30 minutes and up to 2 hours. Strain mixture into pitcher. Fill six 6- to 8-ounce glasses with crushed ice. Pour mixture over. Garnish with mint sprigs
Looking for even more variety? Check out our Summer Drink Guide. It's packed with cocktail recipes perfect for such an occasion!