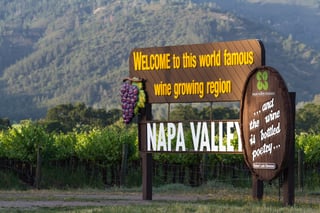 Though two-thousand miles away, the devastating wildfires that blazed through California earlier this month hit home here at Haskell's, as our family extends out to the west coast.
We've had the privilege to work with a number of wine industry partners in Napa Valley and Sonoma Counties for decades. And while there have been different degrees of loss between those we work with, our thoughts and deepest condolences are with everyone affected by these tragic events — partners, non-partners, business owners, families and those who've worked tirelessly toward relief efforts. Though much of the fires have been contained, many still have a long way to go.
California, the fourth-largest wine producer in the world, is a multibillion-dollar industry that generates more than $15 billion in taxes annually. According to the New York Times, the fires disrupted tens of thousands of jobs — 46,000 in Napa County alone, destroyed grapes still on the vine, along with so many bins, barrels, and bottles of wine.
How you can help
In speaking with our friends out west, we asked them — how can we help from afar? Across the board, our partners said the best way to support their business during this time is to encourage consumers to buy their wine. While continuing to sell wines from the region, we also wanted to do something more for those who've helped in relief efforts, too.
In an effort to support our friends, partners, firefighters and all that have been affected by this devastation, we've decided to donate 10 percent of all proceeds from all Napa or Sonoma wines purchased now through November 5th to the Napa Valley Community Foundation Disaster Relief Fund and Community Foundation Sonoma County Resilience Fund.
Napa Valley Community Foundation Disaster Relief Fund
The Napa Valley Community Foundation Disaster Relief Fund was created in 2014 to help victims of the South Napa earthquake. After all earthquake-related programs concluded, the fund had approximately $2.5 million, which is the starting point for the fire relief efforts.
"Thanks to the generosity of donors near and far, we've been able to move quickly to get services to those who need them," says Terence Mulligan, President of the Napa Valley Community Foundation.
The organization has already distributed $565,000 in grants to area nonprofits supporting families and individuals with temporary shelter, food, medical care, mental health services, emergency childcare, transportation and more.
Sonoma County Community Foundation
Likewise, the Sonoma County Community Foundation created the Resilience Fund to address the mid- to long-term needs of those impacted by the fires. According to the foundation, focusing on longer-term relief is important because 73% of the resources go to immediate relief, whereas less than 5% goes to recovery and rebuilding.
Donations to the Resilience Fund will help with long-term housing, economic and rental assistance, legal services, education, healthcare and more.
Check out wines from the region!
We partner with dozens of vineyards and wineries from Napa and Sonoma counties, each with a variety of wines to choose from. Rather than get lost in our massive west coast wine selection, we compiled a list of some wines from the region affected by the wildfires, along with links to their individual products.
Just click the image below to view the selection!