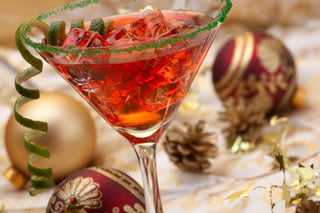 When it comes to Christmas cocktails, there are the "must have" holiday classics and then there are a few new twists and shakes we'd like to add to your home bar repertoire.
So, bring out your best stemware, and get ready for the happiest time of the year with some of the cheeriest recipes we can share, whether you're crafting for one or a crowd.
9 Christmas Cocktail Recipes to Get You into the Holiday Spirit!
Add in your favorite mug, and top with hot water.
Sure, you can make the batter, but everyone in Minnesota and Wisconsin has their favorite. We have a few, but we sure enjoy Connolly's Tom and Jerry Batter. Support your favorite brand of batter in your local grocery.
2 cups water
1/4 cup unsalted butter
1/4 cup packed dark brown sugar
1 tsp. cinnamon
1/2 tsp. freshly grated nutmeg
1/4 tsp. ground cloves
1/8 tsp. salt
2/3 cup Meyer's Dark Rum
Bring water, butter, brown sugar, cinnamon, nutmeg, cloves, and salt to a boil in a 1-1/2- to 2-quart saucepan over moderately high heat. Reduce heat and simmer, whisking occasionally, for 10 minutes. Remove from heat and stir in rum. Serve hot.
2 Tbsp. honey

1 cup hot water

Lemon peel for garnish

2 cinnamon sticks
Stir honey and water in a 2-cup measuring cup until honey dissolves. Add Apple Spiked Bourbon and divide between two Toddy glasses. Twist a strip of lemon peel over each drink, then add to glass. Stir each with a cinnamon stick and serve.
White Chocolate Mint Dream
Over ice, in your favorite cut glass stemware, pour the Ashling® White Chocolate Cream Liqueur, add just a dash of Peppermint Schnapps, and a tiny candy cane for a stir stick.
1-1/2 oz. vodka
4 fresh strawberries
2 tsp. superfine sugar
5 oz. pineapple juice
7-Up or other lemon-lime soda to top off
In a blender, whiz the vodka, strawberries, sugar and pineapple juice together. Pour the mix equally into two highball glasses. Top with 7-Up. Garnish with a sprig of mint.
This recipe, from W.A. Frost, has been served seasonally since 1975. Pour the apple cider with spices into a saucepan. Bring to boil and remove from heat. Immediately add the brandy, rum and triple sec. Refrigerate for storage, then heat to serve in a coffee mug, and garnish with a cinnamon stick and orange slice.
Bring 1/2 cup water and sugar to boil in a small saucepan, stirring until sugar dissolves. Simmer 5 minutes. Cool syrup completely. Combine champagne, rum, and pomegranate juice in punch bowl. Add syrup to taste. Mix in lemon slices, pomegranate seeds, and mint leaves. Add ice block to bowl.
White Christmas Margarita Punch
Mix all ingredients together well. If desired, you can add 1-2 teaspoons of coconut extract for more coconut flavor. Taste and add more syrup if you'd like more sweetness. Serve in a large bowl, over ice, or in large glass pitchers with ice.
These Christmas cocktails are sure to warm you up and get you into the holiday spirit. Who knows? Maybe they'll become a favorite holiday tradition while unwrapping presents or enjoying your holiday meal.