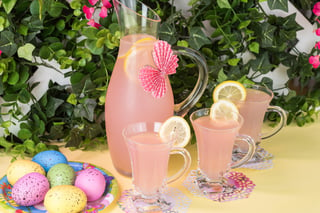 Are you looking for ideas for "just the right" adult beverages for your Easter brunch? What's appropriate to go with ham, lamb and all the wonderful sides that make this traditional spring meal special? What's a tasteful drink that even Grandma will like?
We've come up with some ideas to help get you and your guests cheering for the Easter Bunny. And, these recipes are super easy and fast, so you can spend more time with your family and friends. You can easily make any of the cocktails "virgin" by simply not adding the alcohol, too.
Five Easter Cocktail Recipes
3 cups fresh blood-orange juice (from about 10 oranges)
1/3 cup Grand Marnier or other orange-flavored liqueur
1 tablespoon plus 1 teaspoon sugar
1 (750-ml) bottle Bacio Della Luna Prosecco chilled well
Stir together juice, liqueur, and sugar in a 2-quart pitcher until sugar is dissolved. Chill until cold, about 1 hour. Slowly pour in Prosecco, stirring to combine. Serve immediately.
Place the peaches, lemon juice, and sugar in the bowl of a food processor fitted with a steel blade and process until smooth. Press the mixture through a sieve and discard the peach solids in the sieve. Place 2 tablespoons of the peach puree into each Champagne glass and fill with cold Prosecco. Serve immediately.
Don't have fresh peaches? Substitute frozen peaches!
Red Snapper Cocktail (Gin alternative to the Bloody Mary)
2 pinches celery salt
2 pinches freshly ground black pepper
1 lime wedge
2 oz gin
4 oz tomato juice
.5 oz freshly squeezed lemon juice
6 dashes hot sauce (Tabasco)
4 dashes Worcestershire sauce
Pour the salt and pepper onto a small plate. Rub the juicy side of a lime wedge along the lip of a pint glass, rim the glass with the salt and pepper, and fill the glass with ice. Add the remaining ingredients into a shaker with ice, and shake until chilled. Strain into the prepared glass, and garnish with a celery stalk and lime wedge.
Chill your ingredients first. Build the ingredients in the glass of your choice. Stir, and serve.
Fill glass with ice. Add bourbon, fill with ginger beer and a splash of lime juice. Stir and drink. Garnish with fresh mint sprig. Note, you want ginger beer — not ginger ale.

Cheers!