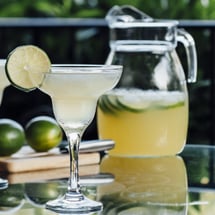 Spring is in the air — a perfect time to enjoy a cold beer or sip on a margarita out on a patio with friends. But which will you choose in celebration of Cinco De Mayo coming up? Here's a twist. You don't have to choose one over the other thanks to the refreshing thrill of the new classic Beergarita. Say what? Don't worry. It's real, and we gathered some recipes to make it go down smooth.
Hey, Beergarita! Here are quatro (4) recipes to check out.
Add the tequila, agave and lime juice to a cocktail shaker with ice and shake vigorously. Add the beer, then strain into a goblet filled with ice. Garnish with a lime wedge and serve.
1 (12 oz.) container limeade concentrate, thawed
1 1/2 cups tequila
2 (12 oz.) bottles beer
Crushed ice
Garnish: lime slices
Stir together first 3 ingredients in a large pitcher until blended. Serve immediately over crushed ice. Garnish, if desired.
1/3 cup lime juice (from about 7) + an extra lime for rim and garnish
3 tablespoons white granulated sugar
2 1/2 cups ice
1 (12 oz.) can of Mexican beer or lager
Salt
To a blender, add the lime juice and sugar. Blend until the sugar has mostly dissolved, about 20 seconds. Add the ice and blend until all the ice is crushed. Pour in the beer and blend once more until combined. It'll be frothy, not to worry. Add a few tablespoons of salt to a shallow bowl or plate. Rub a lime wedge around the rim of two glasses. Dip them in the salt until it's evenly coated all around the glass's rim. Divide the frozen beergarita amongst the two glasses. Garnish with a few lime wedges. Drink immediately.
1 Miller Chill (or Bud Light Lime, or any light beer)

1 shot tequila

1 shot triple sec

1/2 shot Rose's Sweetened Lime Juice

1 tablespoon frozen limeade concentrate, thawed

Juice from 1/2 lime

Ice
Combine all ingredients together in a large glass. Mix, then add ice.
Shop now!
Beers of Mexico sampler is on sale now. A dozen bottles of beer from Mexico.
Corona Light - You've always loved it with a lime.
Tequila - More than 180 bottles for you discover your own new favorite. We've got your cerveza here.