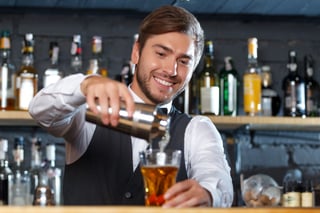 It's the time of year when weekends are booking up for parties: graduations, showers, weddings, block parties, backyard bashes, or just because it's summer in Minnesota. Make your get-together the one your guests will rave about and one you can actually enjoy. Whether it's casual, formal, or business, having a professional bartender taking care of bar services will keep the party flowing. How do the pros plan a party? A little planning and knowing who to contact. You know the saying, "I know a guy, or gal." Keep your party hassle-free by letting a bartender for hire handle the work.
At Haskell's, there are different "tiers" of bartender services to choose from. Here's a quick breakdown: Level one is more of a "wine steward" (opening beer and pouring wine). The next option is a full bar (serving wine, beer and spirits). The next level up is to have a wine expert come and talk to your group about wine. All of these services and more can be found on the concierge menu on the Haskell's website.
How a pro sets up a party:
Decide on bar service. Wine and beer? A signature cocktail? Full bar? Your bartender can help you decide on a selected bar list and can help pair beverage choices with the theme of the party, the food being served and, of course, your budget. Creating a few cocktails also allows more wiggle room in your pocketbook, which means you can likely get better bang for your buck. If your theme cocktails are made with vodka or bourbon, for instance, you don't need five other types of spirits, allowing you to purchase better quality. Here's a case where less is more.
Consider having a signature non-alcoholic beverage as well as plenty of water to keep everyone hydrated. Your bartender can create a special "virgin" version ready to pour for designated drivers and non-drinkers. With so many Minnesota-made bitters and fresh herbs, the options are endless.
Figure out how much booze you'll need. Calculate that guests will have approximately two drinks in the first hour of your party and one drink during each following hour. Know your guest list, and we'll help you with the math and figuring out how much to purchase for the duration of the event.
Feed them. Every party needs food, and The Big Cheese can bring it. We offer cheeses, olive oil, meats and other gourmet items perfect for your next wine party. We can even cater with passed hors d'oeuvres!
Contact Haskell's today and let us help you plan your party. Remember, we do the work – set up, clean up, arrange delivery of beverages which all means more time for you to enjoy with your family and friends. Oh, and need glassware? We can do that too. Hire a Haskell's professional bartender.