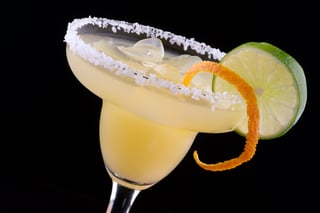 It's the time of year when a cold lager just seems like the only liquid that will quench the thirst. Or a perhaps a perfect pitcher of pilsner? (excuse the alliteration). But then a margarita sounds delicious, too — tequila, lime, sour. What to do? Mix up a beergarita.
What's a beergarita, you ask? Remember the song, "put the lime in the coconut and drink it all up"? It's not that. Here, it's a mix of a beer and a cocktail. In fact, most recipes call for pouring a bottle of Mexican beer into a beer and calling it a day.
We did some sleuthing for the best beergarita recipe out there and we think this is the ONLY recipe you need. Try it out and let us know what you think.
Ingredients:
1.5 ounces blanco tequila
1 ounce cantaloupe syrup (equal parts cantaloupe puree & simple syrup)
¼ ounce lime juice
3 ounces pilsner
Sage for garnish
Combine the tequila, lime juice, and cantaloupe syrup in an ice-filled shaker. Shake and strain over ice in a Collins or margarita glass. Top with pilsner (German or American versions work). Garnish with a sprig of sage.
If you are looking for a drink to make in quantity, we have that for you too. Best part: it's super simple, and if you can do easy math, you can do this. Twelve is the magic number.
BONUS: Super Simple Beergaritas by the Pitcher
Ingredients:
12 cold 12-ounce cans of beer
12 ounces tequila
12 ounces fresh lime juice
Carefully combine the ingredients in a large pitcher and gently stir (do not shake – the beer will get too frothy). Serve in margarita glasses.
Cheers!