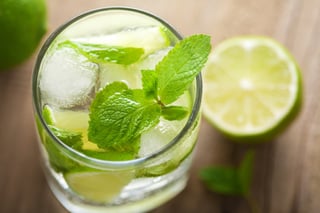 Are you looking to up your mojito-making skills? The classic Cuban highball is a summer favorite for a reason. It's refreshing. And, it's pretty simple to make. You don't need to tell your guests that part, but there are a few tips we'd like to share to help you impress your friends and let you kick back with mojito in hand. You may want to reach for a cigar as well.
There are simply FOUR things to keep in mind when creating this magic. It's all about quality.
Here's what you need to know about those simple, yet crucial ingredients.
Rum: Most agree that the best rum for a mojito is a white rum, also known as silver or blanc. You want a light, crisp drink. Try these:
Sugar: You could use a simple syrup; however, if you have ultrafine baker's sugar on hand, you can skip that step and get back to the cocktail. It's a super fine pure cane sugar you can find in the baking aisle at your local grocery store. It dissolves fast. Perfect!
Lime: Fresh! If bottled lime juice is all you have, head to the store! Fresh limes will be worth the trip. Tip: Roll the lime before cutting.
Mint: Fresh! Summer is always better with a bounty of fresh mint, pick it or buy it but don't skip it.
The only Mojito recipe you need
1

ounce mint leaves, torn in half

2

ounces fresh lime juice

1 ½

ounces white rum

1

teaspoon extra-fine granulated sugar

Crushed ice

4

ounces club soda
Muddle (crush with a pestle) the mint with the lime juice in the bottom of a tall cocktail glass. Add the rum, sugar, crushed ice and soda. Cover and shake, and uncover, serving with a lime wedge. Enjoy!