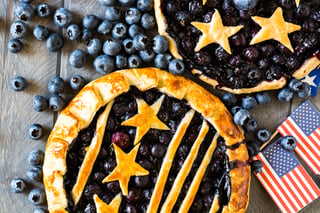 Three cheers for the fourth of July. This truly American holiday deserves a patriotic toast as we celebrate our nation's birth as an independent country. What better way to "hip, hip, hooray" for America than with adult beverages crafted with all-American spirits?
Let's hear it for the Red, White, and Blue, with these fun-to-make, delicious-to -drink patriotic cocktails. We'll let the kids stick with the colorful drinks; we're going with All-American classics when it comes to cocktails for this birthday party. Enjoy the bounty of some terrific made in Minnesota vodka, gin, and bourbons for these classics.
Ingredients:
1 ½ ounces Bourbon or Rye
¾ ounce sweet vermouth
1–2 dashes angostura bitters
Maraschino cherry for garnish
Combine ingredients in cocktail shaker filled with ice. Stir well and strain into a chilled cocktail glass. There are variations.
Ingredients:
10 mint leaves, plus a sprig for garnish
1 1/2 teaspoons superfine sugar
Seltzer water
Crushed ice
2 1/2 ounces bourbon whiskey 

Place the mint leaves in the bottom of an old-fashioned glass and top with the sugar. Muddle these together until the leaves begin to break down. Add a splash of seltzer water, fill the glass 3/4 full with crushed ice, and add the bourbon. Top with another splash of seltzer, stir, and garnish with a sprig of mint. Serve immediately.

Cape Codder
Ingredients:
1 1/2 ounces vodka
4 ounces cranberry juice
Lime, for garnish
Combine in a highball (tall) glass with ice. Garnish with lime.
Make it Minnesotan, with a locally-produced gin.
3 parts gin
1½ parts lemon juice
1 part sugar syrup
3 pieces raspberry
3 pieces blueberry
6 pieces mint leaves
Ice
Add raspberry, mint leaves, lemon juice, and blueberry to the shaker. Crush raspberry, mint leaves, lemon juice, and blueberry with muddler. Add sugar syrup, ice and gin to shaker and shake well. Strain into the old fashioned glass, garnish with lemon spiral.
BONUS: Here's one for the kids.
A punch for all ages by Betty Crocker. You can take it up a notch, though, by adding your favorite locally-crafted vodka for an adult version.
Ingredients:
1 cup red cinnamon candies
4 cups water
1 can (6 ounces) frozen lemonade concentrate, thawed
1/3 cup frozen (thawed) orange juice concentrate (from 6-ounce can)
1 bottle (1 liter) ginger ale
6 orange slices, cut in half
In a quart saucepan, cook cinnamon candies and 1 cup of the water over medium-high heat, stirring frequently, until candies are melted; remove from heat. Cool completely, about 30 minutes. In large punch bowl, stir candy mixture, remaining 3 cups water, the lemonade and orange juice concentrates, until well mixed. Refrigerate until ready to serve. Just before serving, gently stir in ginger ale. Garnish with orange slices.